ACS (International) has been completely renovated and new building blocks added since its establishment in January 2005. All rooms are air-conditioned and equipped for both wifi and hard wired computers.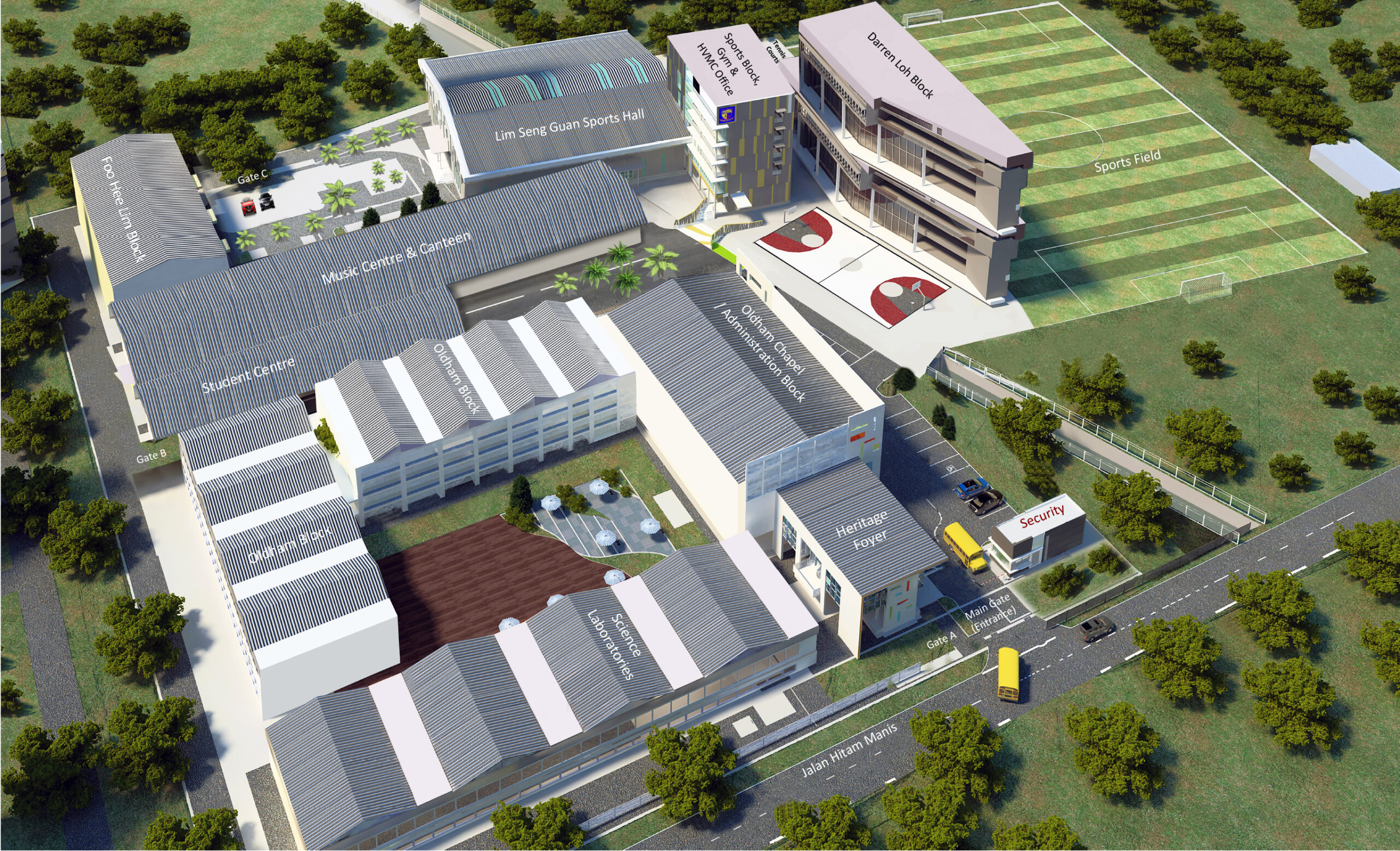 Our Campus
Heritage Foyer: The newly developed Heritage Foyer showcases the Methodist and ACS forefathers, John Wesley, James Thoburn and Bishop Oldham; a summary of the ACS history; pertinent bible verses and an interactive TV screen featuring the school and ACS promotional videos.
Administration Block: The partial two-storey building houses the General Office with a conference room and a dining/meeting room, among others. The 500-seat Oldham Chapel on Level 2 is used by both the school for Chapel and large meetings, and by the Holland Village Methodist Church (HVMC) as its place of worship on Sundays.
Oldham Block and Foo Hee Lim Block: The original four-storey Oldham Block consists of 16 Science laboratories plus general classrooms around an attractively landscaped Science Terrace that face Jalan Hitam Manis. The three-storey Foo Hee Lim Block houses general classrooms.
Music Centre and Canteen: Three specialist music classrooms plus one music technology computer laboratory and four music practice rooms occupy Level 2. A 550-seat canteen serves Chinese, Western and Vegetarian cuisines, and snacks, and is an attractive space for students to gather socially, to eat lunch and to study in an informal setting. A Student Centre, extended from the canteen, is a popular meet-up space for project discussions and get-togethers, and a place to meet visiting groups such as universities and charity organisations.
Darren Loh Block: The six-storey building houses two floors of the Sitorus Library, two floors of general classrooms, one floor with three specialist art rooms and one kiln room, one computer laboratory, and one floor for Drama/Theatre/Dance which contains one Black Box, resource space, general classrooms and one specialist Higher Education suite.
Lim Seng Guan Sports Hall, Sports Block and Sports Field: A modern Lim sports hall, fully air-conditioned, contains two basketball courts and one climbing wall. It is also used to seat the whole school for weekly assemblies and Chapel. A gymnasium with weights and treadmills, one medical centre, counsellors' offices, general classrooms and the HVMC Office (and Wesley Halls) are housed in the Sports Block. The artificial Astroturf, which covers a full-sized football field is a popular venue for Physical Education curriculum lessons, co-curricular activities (CCAs) ranging from rugby to football to touch to archery, lunch time and after-school activities. Two tennis courts are also available.